2.31 minutes
increased average session duration
-50%
bounce rate to 32.25%
The short story 
Drambuie is a historic liqueur brand named after its feature product – a Scotch whisky liqueur blended with spices, herbs and heather honey.   
In 2015, Drambuie was stuck with an outdated and seasonally restrictive image. The scotch whisky liquor was enjoyed by a predominantly elderly female demographic and had seasonal sales that were higher during the winter and Christmas period.   
Drambuie was keen to reinvent their internal and external image, appeal to a younger, trendier demographic and establish themselves as a drink that could be enjoyed all year round.   
Our brief was to help drive this change, educate consumers regarding in home and out of home consumption, and increase both on and off-trade sales. With the freedom to explore a range of solutions, we began by improving the brand website.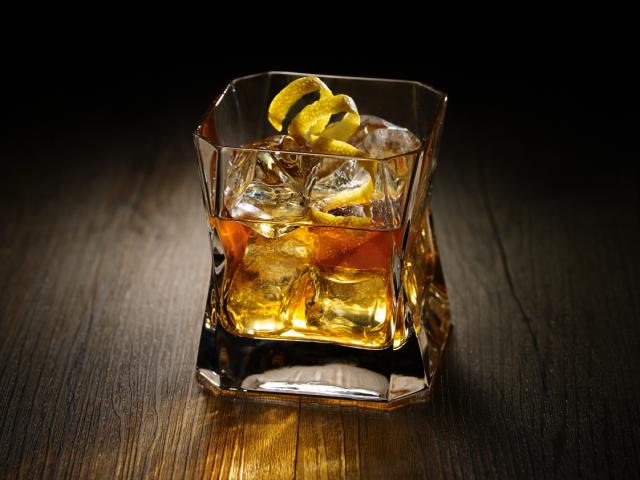 The results   
With a focus on the customer journey, including both personal and organisational consumers, we were able to create a site that kept users active, engaged and educated on all things Drambuie. We developed an innovative interface, produced content for 78 cocktail recipes, created new icons and originated more engaging site photography. This resulted in a boost to audience engagement and a push towards a more modern, trendy brand personality.  
The long story  
 
Promoting the hero cocktail  

Out of all the pages on the Drambuie website, the drinks section was the most popular. This showed that customers were trying to learn how to use the liquor, but needed a helping hand.  
To improve the page and promote Drambuie as a versatile liquor, we populated the drinks section with a wide and varied selection of drinks recipes, complemented by beautifully shot photography.  
The selection would hang on Drambuie's signature cocktail for the US and UK — the Rusty Nail. Promoting a drink as Drambuie's alone helped single them out within the busy drinks' market, creating brand advocacy.  
Creating the cocktails     

In order to create cocktails that would appeal to the wide Drambuie audience, we hired a master mixologist and drinks stylist. She created a huge number of Drambuie-focused cocktails, from hot warming drinks for the winter, to light refreshing ones for the summer.   
When paired with a number of recipes we discovered hidden in Drambuie's archive, we had over a hundred cocktail recipes to work with. The selection of cocktails ranged from simple, easy-to-make ones that could be whipped up at home, to more intricate recipes that would appeal to bars looking to refresh their drinks menu. 
 With her passion and years of experience in the industry, the mixologist was essential in helping us create the descriptive tasting notes that accompanied the photos. While following Drambuie's TOV guidelines, we were able to guide the customer through the flavours of each drink, helping them imagine the taste through words alone.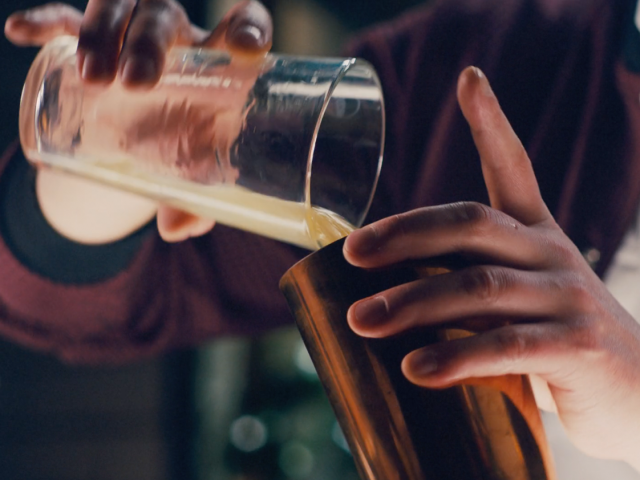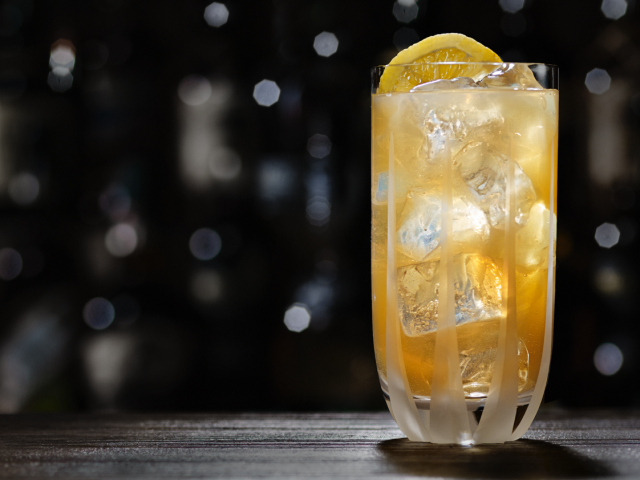 Shooting the drinks  
The perfect setting for a cocktail shoot had to be a bar, so we began scouting out a number of potential spots — discovering sleek bars and sunny rooftops where we could shoot the key signature cocktails. To ensure each cocktail had a unique look, we bought and rented different glasses that reflected the character of the drink, from antique tumblers to art deco teacups.  
The mixologist worked closely with the photographer to create sleek, tantalising shots that captured the appeal of the drink and Drambuie. This collaboration helped to create a series of shots that were so successful, we had to do another shoot.  
The 4-day studio shoot  
With a strict budget and a huge number of shots to get through, we had just four days to complete the second photoshoot. By opting for a studio this time instead of a bar, we had the ability to use carefully chosen props and transform it into the space we wanted. We gathered a mix of items including plants, lights and slabs of wood, and marble to recreate the look of the previous photoshoot.
On top of this, we established four style settings that the photographer could work around — lamps & dark wood, dark surface granite, light surface & shadows, and warm glow sunset. These settings allowed the photographer enough creative freedom to work effectively, while ensuring a clear consistency throughout the whole of the shoot.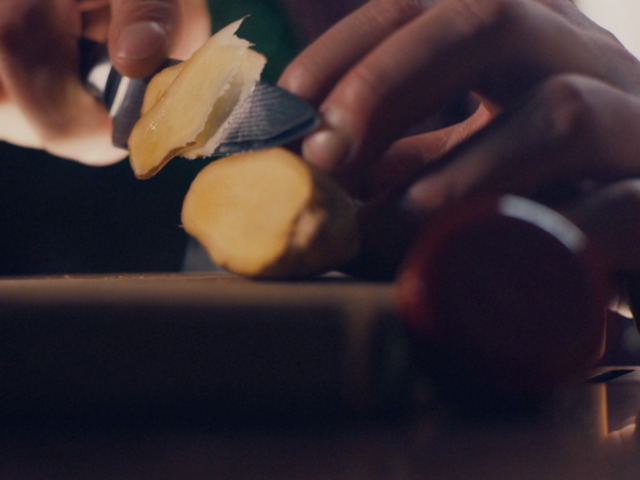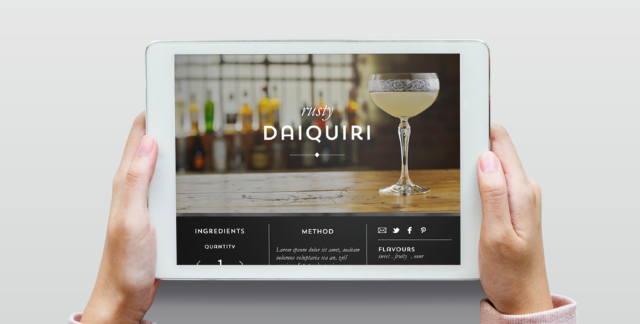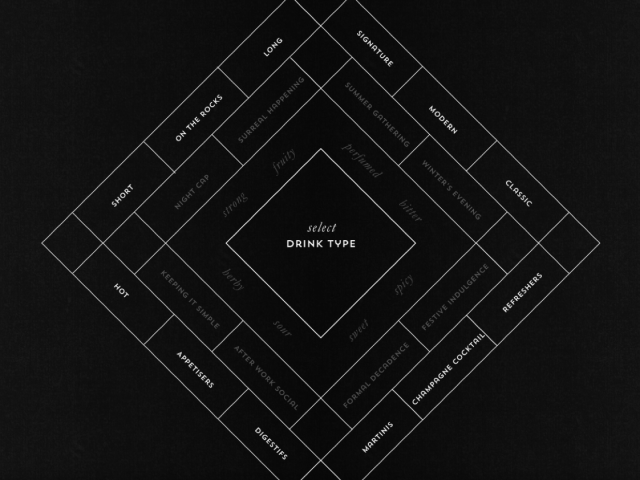 A UX redesign   

Alongside the photography shoot, we were working to improve the interface of Drambuie's existing drinks section. In order to complement the social drinking character of the new brand, it was important that the site was 100% mobile-friendly, allowing users to easily check recipes without relying on a cumbersome laptop or computer.    
To increase customer usability, we also ensured that every recipe had a scalable ingredients list function, allowing measurements to be easily adjusted according to the number of drinks being prepared.    
 
Customisable CMS  

As an international brand, Drambuie had shifting personalities and hero cocktails depending on its location. In order to make uploads as simple as possible for the internal team, we created a global CMS where recipes, images and videos could be added and signature cocktails quickly adjusted.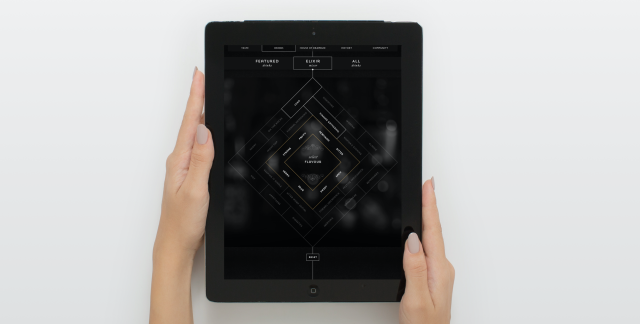 Mobile icons   

To make the drinks instructions as clear as possible, we created mobile-friendly icons that would illustrate the equipment needed. From cocktail spoons and muddlers, to shakers and martini glasses, the simple icons instantly showcased the necessary steps while helping to guide both experienced and inexperienced cocktail makers.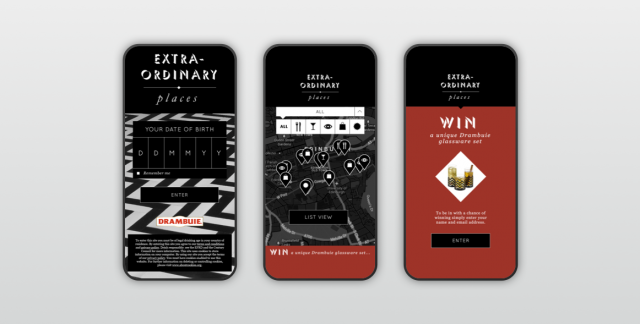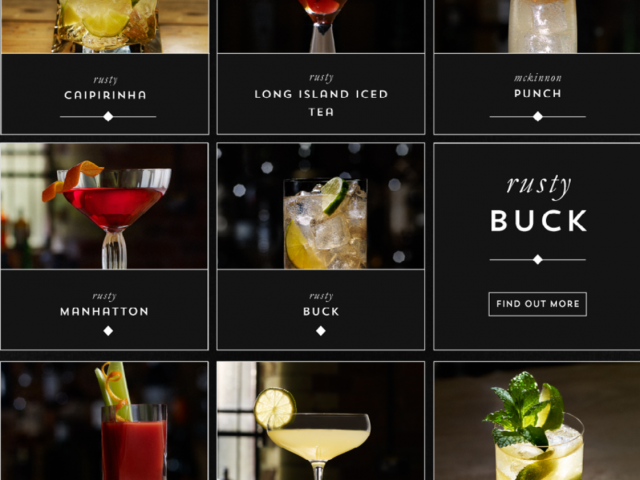 Finding the perfect drink     

While we had made vast improvements to the user-interface, we needed to perfect the journey. With over a hundred cocktails on the site, we couldn't expect users to scroll through all of them. Instead, we created a customisable filter where users could pick their social or solo occasion, the type of drink they wanted and their favourite flavours. This filter would then navigate them through the vast range of drinks to a small selection that matched their specifications.   
Toning down the surreal  
Drambuie had recently gone through a brand redesign. Determined to transform their outdated image, they opted for a striking and imaginative surrealist look. While the redesign created a unique stance for Drambuie, it didn't fit completely with the audience base they wanted to attract. To ensure the new drinks section fitted with the rest of the website, we took elements of the redesign, including the dark, moodier visual tone, and blended it with a sharp modern look to create an eye-catching design.