We're delighted to introduce a guest post from our sister company, Weave + Blend - a workplace automation specialist and HubSpot solutions partner, to introduce their HubSpot marketplace app, Invoice Stack

These days, no matter what your business is, you're generating vast amounts of data even if you don't realise it. We're familiar with customer data being generated from our marketing efforts and via social media, but your business is likely generating data all the way through the customer lifecycle, from sales to accounts to delivery. All too often this data sits in disparate siloed systems, and if we want to join it up, someone has to manually process it. But this data is powerful, not only can we get better insights into our business by joining it up, but we can do away with those manual processes and save hours and hours of admin.

The Quote-to-Cash process is one of the most valuable, but overlooked, opportunities to join up your data. For B2B businesses, this is the process starting when you quote your customer a price for your products and services, and finishing when you get paid. Usually this includes some kind of quote platform, contracts/document signing, an invoice sent out, and a bank payment. Along the way you may have some of this joined up, but for many businesses it's a manual process.

Joining up this process can be really valuable - imagine if your Sales team knew when their clients were late on payments, or if your finance team had insight into what was sold. What if you could start production only once a client has paid a deposit, without any manual intervention? This is why we created Invoice Stack.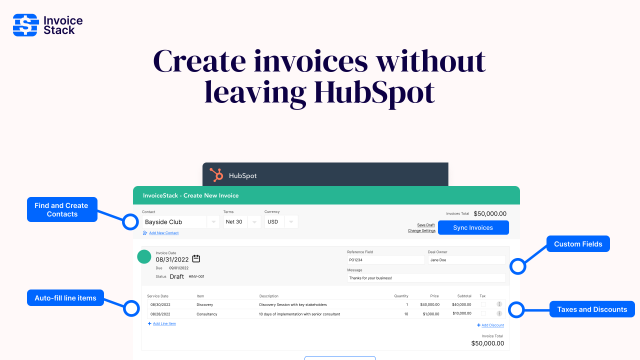 Invoice Stack integrates HubSpot with Xero and QuickBooks. HubSpot is an amazing platform for joining up prospect, marketing and sales data, and with Invoice Stack, we can join up financial data too. Sales teams can create quotes inside HubSpot, turn them instantly into Invoices. Then, when the invoices get paid or go overdue, Invoice Stack updates HubSpot and can leverage powerful workflow automations, everything from email notifications to integrations with other platforms. We even include a ton of finance-friendly features, like sending invoices for approval, and support for subscription invoices.

Our customers span from influencer agencies, events companies all the way through to agriculture startups and drone suppliers, all of them saving hours of manual intervention and making their Quote-to-Cash workflow more efficient.

If you'd like to find out more about our HubSpot Xero Integration, or our HubSpot QuickBooks integration - go to the Invoice Stack website and book a demo today.